The 2018 Cochrane Colloquium will be held in Edinburgh at the International Conference Centre in Scotland from 16th to 18th September 2018. It will be hosted by Cochrane UK.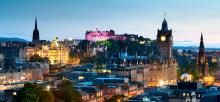 The theme of the Colloquium will be:
'Cochrane for all – better evidence for better health decisions'
This will be a Colloquium for everyone. It will welcome newcomers to Cochrane from all parts of the world and from all backgrounds. One of the key aims is to increase the involvement of patients, carers and family members (healthcare consumers) in our work. As such, the Colloquium 2018 will be a Patients Included event that is co-designed, co-produced and co-presented by healthcare consumers and where everyone's input is valued equally.   
The Colloquium 2018 will focus on the key goals of Cochrane's Strategy to 2020, looking through the eyes of healthcare consumers and in partnership with them:
Producing evidence
Making evidence accessible
Advocating for evidence
Effective and sustainable organization
For more information, please read the full official announcement. Individuals are also welcome to share their suggestions for the 2018 Colloquium through an online survey, which can be found at the bottom of this blog.
To keep up to date with plans for the Cochrane Colloquium Edinburgh, please visit uk.cochrane.org. Registration is scheduled to open in late 2017, and more details on dates, registration and the scientific programme will be announced in the coming months.